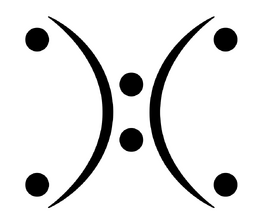 "it kinda looks like a butt"
- Pilate, Wednesday, August 06, 2014 10:33 PM
Yaerfaerda is the symbol burned into Rainbow Dash's vision after the events of Chapter 179 of Urohringr. Throughout Yaerfaerda and Ynanhluutr, it directs her in her journey. It is implied that Verlax has at least some control over where it appears.[1]
Rainbow sees a vision in Yaerfaerda ch. 40 which describes the sun partially obscured by a plane, and a moon nearby, which "refracts" until it takes on the likeness of the symbol.
Starting shortly after the Durandana arc, the symbol becomes visible to Rainbow Dash at all times, even when her eyes are closed. At first, it leads her to the center of the silver mine in Amulek, at which there is an entrance to the Machine World and a golden pedestal. Afterwards, it leads her to a group of changelings in Ether Point. Then, it directs her to a point far within the Grand Choke, which turns out to be a pedestal on a tower in the middle of the ocean. This tower releases the spirit of Twilight Sparkle. The next destinations are the Nealend Atoll (Rarity) and Shoggoth (Pinkie Pie).
Etymology
Edit
The word "Yaerfaerda" is most likely related to the Nordic roots gær "yesterday" and fæða "to give birth to". gær in Icelandic means yesterday and is pronounced similarly to yaer. ferð sounds like a bit faerda, it can mean a trip or journey. If this is right, Yaerfaerda could mean "Yesterday's Journey". This is substantiated by the disembodied voice which appears in Rainbow's dreams, saying only the words "FOAL" and "YESTERDAY".
Yaerfaerda is a pair of two dots in the center, and then on either side a pair of short arcs opening away from the center. Beyond those on either side are two dots per side, with greater vertical distance between them than the center pair. The symbol changes its color to that of the next Element of Harmony to be released.
Outside the 4th wall, it is a reference to the symbol " ):( " which was used in the comments by Jake the Army Guy as a representation of "AN IMPLODING.....COLON!!!! GET IT?!?!"
Significance
Edit
The symbol serves as a beacon which draws Rainbow towards her destiny to the East. Like the Lavender Light, following it tends to lead to fortuitous results. It is possible that Verlax herself manipulates the symbol as a way of controlling Rainbow Dash.
↑

Ynanhluutr ch. 168
Ad blocker interference detected!
Wikia is a free-to-use site that makes money from advertising. We have a modified experience for viewers using ad blockers

Wikia is not accessible if you've made further modifications. Remove the custom ad blocker rule(s) and the page will load as expected.